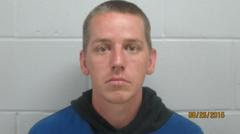 Nathan Baker of Shoals has been sentenced to 133 years in prison in connection with the shooting deaths of 2 near Dover Hill in Martin County.  The sentencing comes just two days before the 3rd anniversary of the crime.
     Baker was convicted by a jury this past June for two counts each of Murder, Burglary and Theft.  
     Baker was the shooter in the deaths of 82-year-old Alan Sims and 52-year-old Thom Tharp.  Investigators say they were going inform police about Baker's involvement in a burglary at a river cabin.
     Both men were found shot to death on Sims' property on Fred Sims Road August 26th 2015.  In addition to the murders Baker was also found guilty of stealing items from both victims' homes including a car from Tharp.  Baker was caught that day in the car after he led police on a brief chase in Lawrence County, Indiana.
     The Washington Times Herald quoted Prosecutor Mike Steiner who said that even with Indiana's good time law, Baker will have serve at least 99 and ½  years in prison.