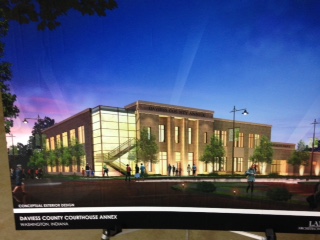 The Daviess County Commissioners were told Tuesday that construction of the Courthouse Annex is running behind schedule.  Mike Schapker, the County's representative on the project laid the blame squarely at the feet of the masonry work.  Schapker said the Masons should be laying around 200 blocks a day, but instead are only getting 50 to 60 down.     But Schapker also said the project's general contractor, Jasper Lumber, still has not provided the necessary project schedule despite repeated prodding from him and architect, Jonathan LaMar.    Schapker did say that Jasper Lumber was looking at adding a second masonry sub-contractor to get the project back up to speed.
In other Annex project business, the Commissioners agreed to purchase additional property on the south side of Hefron Street.  The property was purchased from Johnny Cummins for the appraise price of $65,000.  
      In regular business at the Commissioners meeting, presentations were heard on the County Employee Health Insurance Program from Hoosier Insurance and Thompson Insurance.  After the presentations, the Commissioners voted to accept the Hoosier Insurance proposal.  
      -The Commissioners tabled a request from Solar Sources to extend the closing of County Road 700E until the first August meeting.  The delay would allow notification of neighboring property owners.  
       -County Highway Superintendent Phil Cornelius told the Commissioners that paving on the 900 E project should be completed by the end of the week.  Cornelius also reported that the 15th Street Bridge project in Washington was "going nicely".  
      -The Commissioners also noted the first meeting in August would be held in Alfordsville.