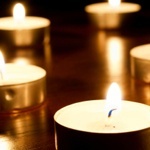 John K. Glass, 86, of Vincennes, IN, passed away May 26, 2018, at his home.
     John was a graduate of Decker High School, and was a member of St. Vincent Catholic Church. A US Army veteran, he also served in the National Guard. John used his mechanical abilities at John Deere and Anthis Heating and Cooling.
     Born February 26, 1932, in Vincennes, IN, he was the son of Raymond and Maude (Kirk) Glass. He was preceded by his parents; his wife, Shirley Katherine (Bouchie) Glass; his sisters, Jeannett Devlin, Opal Fleck, and Ruby Kotter; and his brothers, Raymond "Jack" Glass and Norman "Tim" Glass.
     Surviving are his children, Ida Ueding of Venice, FL, and John Glass and his wife, Sherrie, of Bruceville, IN; his sister, Esther Mohr of Mt. Vernon, IN; grandchildren, Jeremy Hayes and his wife, Jill, Justin Glass and his wife, Kasey, Kyle Glass and his wife, Kristen, Shay Ross and her husband, Chris, Jonah Glass, Colleen Uva and her husband, Bill, and Chris Ueding and his wife, Bailey; his great-grandchildren, Ellie, Ari, Hudson, Lillian, Lincoln, Ava, Zoey, Jude, Lleyton, Mira, Madelyn, and Benjamin; and several nieces and nephews and great-nieces and nephews.
     A Mass of Christian Burial will be celebrated on Friday, at 10:30, at St. Vincent Catholic Church. Friends may visit with John's family from 9:30 – 10:30 on Friday, at the church. Interment will be in Mt. Calvary Catholic Cemetery. Goodwin Funeral Home assisted with the arrangements.
     Donations may be made to assist homeless veterans. Online condolences may be sent to the family through goodwinfamilyfh.com.