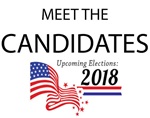 Election season is getting into full swing.  If your still on the fence about your local choices, be sure an attend a Meet Your Candidate night Monday night in Washington.
        The Daviess County Chamber of Commerce is hosting the forum.  Chamber Director Samantha Bobbitt says it's not a debate but a meet and greet…
        The speeches will be followed by a speed style dating seeting for candidates to meet more face to face.  Bobbitt says patrons will be sitting at tables and candidates will move from table to table every 10 minutes.
        The Meet the Candidate is Monday at the Washington Eagles Lodge from 6 to 8.