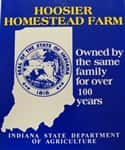 A Daviess County farm is one of 65 family farms receiving a 2018 Hoosier Homestead Award in recognition of their commitment to Indiana agriculture.
        To be named a Hoosier Homestead, farms must be owned by the same family for more than 100 consecutive years, and consist of more than 20 acres or produce more than $1000 of agricultural products per year. Indiana farms can qualify for three honors: Centennial Award for 100 years of ownership, Sesquicentennial Award for 150 years of ownership and the Bicentennial Award for 200 years of ownership.
        The Indiana Lt. Governor's office has announced that a farm owned by the Ryan family received a Sesquicentennial award.  The farm started operations in 1867.
         Since the program's inception in 1976, more than 5,000 families have received the Hoosier Homestead Award.