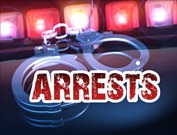 -A Washington man was jailed yesterday for Battery and Disorderly Conduct.  The charges against 28-year-old Derek Godfrey stem from a report made about 4pm yesterday.  It involved Godfrey in an alleged physical confrontation with a woman.  No bond was set.
-A domestic incident on Northwest 2nd resulted in the arrest of 34-year-old Donnie Harris of Washington early this morning.  He was jailed after the 2-am incident for Domestic Battery and Criminal Confinement.  No bond was set.
-Washington Police responded to and investigated a report of a physical fight at Cherry Tree Plaza between a man and woman at 3:40-pm.  No arrests were made.
-Washington Police made two drug related a arrests yesterday.  36-year-old Patricia Mahan of Washington was charged with Possession of Meth, Paraphernalia and Marijuana.  She's also charged with Criminal Conversion and Neglect of a dependent.  In another incident,  Police charged 43-year-old Deanne Belcher of Washington with Conspiracy to Commit Dealing in Meth, Possession of Meth and a Schedule 2 and 4 Substance and Maintaining a Common Nuisance.  NO bond was set.
-Police investigated a report of two alleged shoplifters at Wal-Mart at just before 8 last night.
-A resident at Jamestown Square reported a vehicle window busted out with a rock.
-A woman reported a purse taken from a parked vehicle.
-48-year-old Kimberly Furman of Washington was jailed yesterday on a $2000 bond for Operating While Intoxicated.