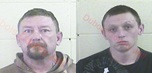 A father and son from Loogootee and Odon allegedly rammed a vehicle and assaulted a driver in Dubois County.
        Jasper Police began investigating a report of one vehicle chasing another just before 2-am Thursday morning.  The Dubois County Free Press reports that police found out that 46-year-old Travis Karns of Loogootee was driving and rammed another car multiple times at 2nd Street and 231 in Jasper disabling the other car. Then Karns and his 21-year-old son Brandon of Odon, were said to have got out of their truck and assaulted the other driver with wood and metal clubs.  The victim had minor injuries and refused treatment at the scene.
        Meth, marijuana, paraphernalia and Schedule 4 Substances were found in the truck.
        Both have been charged with Aggravated Battery and Criminal Recklessness and drug possession charges. They were booked into the Dubois County Jail.