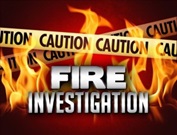 A New Year's Eve Fire on Broadway Street in Vincennes over a month ago remains under investigation. The blaze claimed the life of 57-year-old Cindy Horvath. 
        State and local fire investigators have put out the call to the public to help them find the cause of the fire.  They've also offered a $5,000 reward for information leading to an arrest. 
        Anyone with information on that fire is asked to call the Indiana Arson Hotline, 1-800-382-4628.