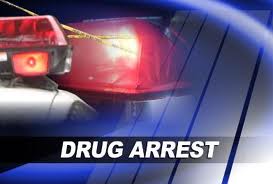 A Knox County woman is facing Possession and Nuisance charges in Martin County after her vehicle got stuck in a  field.
        A resident on Scenic Hill Road called the Martin County Sheriff's Office on Tuesday morning to report the truck stuck  behind his home.  Martin County Deputy Tyler Reed recognized the truck as one that had eluded him the night before when he attempted a traffic stop.   A k9 was also on scene and after a free air sniff, meth and marijuana were located in the truck.
        37-year-old Stephanie Howder of Vincennes was arrested and charged with Possession of Meth, Marijuana and Paraphernalia and Maintaining a Common Nuisance.
That's the 7th drug related arrest in Martin County since last Saturday.