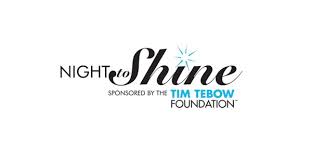 A local church is again teaming up with the Tim Tebow Foundation to host "A Night to Shine".   It's the third year for the prom type event tailored for special needs people in the community.
          Kim Burkhart says the national project has grown and grown…
                   Guests at the Night to Shine to be held Feburary 9thh at the Antioch Christian Church east of Washington will enter the prom on a red carpet complete with friendly paparazzi.  Once inside, the guests receive VIP treatment.  There will be a king and queen crowned during the evening as well.
          A Night to Shine is open to anyone with a disability whether physical or mental ages 14 years old and up.  The guests are provided a 'buddy" to help in any way needed.  There are also lots of volunteers to help set up and do what's needed to put on a Night to Shine.  200 guests are expected to attend and double that amount of volunteers is utilized.
          If you would like to help out, call Leslie Heschelman at 812-444-9304.  Your must be 16 by February 9th and submit to a background check to volunteer.