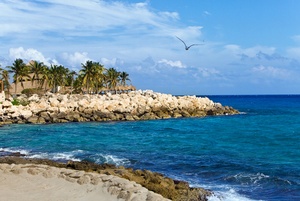 Holly Ann LaMarche, 54, of Anna Maria, Florida, and most recently Vincennes, died on January 11, 2018 with her family close by. She was born at Good Samaritan Hospital in Vincennes on October 21, 1963.
Holly was a graduate of Lincoln High School and of Vincennes University with a degree in English. She was known among her friends and family for her love of unusual words and their meanings.
She worked as a dental assistant for many years both in Indiana and Florida. She began training with Dr. Steve Mullins in Vincennes, and continued working in dental offices for several years after moving to Florida in 2003. She frequently assisted with dental surgery in hospitals and especially enjoyed working with young children and elderly patients.
Holly was an animal lover, and was especially crazy about her beloved dog Rascal and her cows Leapy, Cinco, and Ziggy, while residing in rural Florida. She was an avid sports fan and followed pro tennis, the Indy 500 and NASCAR.
Holly always longed for the simple life in the country and was not always a fan of today's technology. She was a hard worker, determined and very strong willed. Holly met and overcame many challenges throughout her life and had recently accepted Jesus Christ as her Lord and Savior.
She will be sadly missed by family and her many friends and co-workers in Florida.
She is survived by her parents August LaMarche and Millie Fisher, stepfather Dave Fisher, stepmother, Elizabeth LaMarche, her loving sister and soul mate Sherri Lamb and her husband Danny, brothers Chris LaMarche of Evansville, and Tim LaMarche and his wife Sandy of Vincennes, and nieces Leigh Ann Singleton, Katie Montcalm, and Chloe LaMarche, and nephew Noah LaMarche.
Reverend Steve Anderson, from First Baptist Church, will lead a private memorial service for Holly's immediate family in the church chapel, with added remarks given by Rusty Thorne. There will be no public visitation. Arrangements were handled by Goodwin Family Funeral Home.
In lieu of flowers, memorial gifts may be made to Good Samaritan Hospice.
Online condolences may be made at goodwinfamilyfh.com.