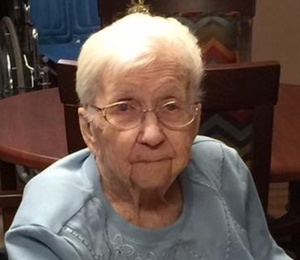 Lelia L. Dunham, 102, passed away at 6:45 am on Saturday, December 30, 2017 at the New Willow Manor Nursing Home. Lelia was born on December 29, 1915 in Vincennes the daughter of Thomas and Flossie (Allen) Smith. She married George L. Dunham and he preceded her in death.
Lelia enjoyed crocheting and had crocheted well over one thousand afghans.
Survivors include her children, daughter, Marlene Greenwood of Vincennes, son,  Gary Dunham and his wife Donna of West Terre Haute, son, Steve L. Dunham and his wife Carol of New Goshen, IN; brother, Bill Allen and his wife Betty of Bicknell;  grandchildren, Kevin Greenwood and his wife Dana of Vincennes, Robyn King and her husband Eddie of Vincennes, Sheila Piper and her husband JP of Paris, IL, Christi Maxwell and her husband Brian of Terre Haute, Wade Dunham of Terre Haute, Shannon Goodrick of West Terre Haute, Amy Marchino of Terre Haute, Sara Lindsey and her husband Matt of West Terre Haute; seventeen great grandchildren; and three great-great  grandchildren. Lelia was preceded in death by her husband, George L. Dunham, six sisters, and six brothers.
Funeral Services for Lelia will be held at 10:00 am on Wednesday, January 3, 2018 at Goodwin Funeral Home with Pastor Garth Whewell officiating. Interment will follow in Memorial Park Cemetery. Friends may visit with Lelia's family from 4-8 pm on Tuesday, January 2, 2018 at Goodwin Funeral Home. In lieu of flowers contributions may be made to Heart to Heart Hospice. On line condolences may be sent to Lelia's family and friends at www.goodwinfamilyfh.com.