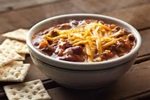 The first Saturday in November tomorrow means Chili Supper time at Veale Elementary School in Southeast Washington.
        PTO Spokesman Dylan Sickles says the cost for the meal is $6 and includes, chili, a hot dog, desert and drink.  He says it's the 56th year for the event which raises money for the school through the meal cost and raffle ticket sales..
        The Veale Chili Supper is 4 to 7 at the school today.
         Part of the proceeds from the chili supper will be donated to the Children's Craniofacial Association. Some Veale students will sell root beer floats raise money for the cause.  The idea came to the students after studying a book called "Wonder" which is now a major motion picture starring Julia Roberts and Owen Wilson.  "Wonder" chronicles the struggles of a young boy who endured 27 surgeries because of his with craniofacial differences and who enters the fifth grade.