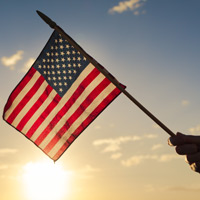 A.V Grogan, 92, of Washington, Indiana passed away on Wednesday, October 25, 2017 at his residence in Washington, Indiana.
He was born on January 31, 1925 in Sumner, Illinois to the late Carl and Anna (Bartman) Grogan.
A.V was a United States Navy Veteran that served as a First – Class Seaman in the South Pacific, in WWII from 1942 – 1945. He married Patricia Jane (Berry) Grogan on April 4, 1947 and she preceded him in death on March 21, 1981. A.V was a member of the VFW in Flora, Illinois, and was an Engineer for the B & O Railroad.
On October 24, 1984, A.V married Mary Faye Shepherd. A.V and Mary Faye were active members of the Washington Church of Christ throughout their married life. Mary Faye preceded A.V in death on May 31, 2016. He enjoyed the outdoors and loved to garden. He was known for sharing his fruits and vegetables with his friends, family, and local community.
A.V is survived by his children; Steve (Cyndi) Grogan of Mountain View, CA, Deborah Grogan of Santa Cruz, CA, John (Rita) Grogan of Gilroy, CA, step- daughters; Melba (Bill) Dawson of Washington, IN, Rita (Ken) Eide of Petersburg, Sheila (Mark) Petty of Washington, his sister Roberta George, his brother Benny Grogan, and many grandchildren, great- grandchildren, nieces, and nephews.
He is preceded in death by his first wife, Anna (Berry) Grogan, his second wife Mary Faye (Allen) Grogan, his parents, and several brother and sisters.
Cremation was chosen according to A.V's wishes.
Arrangements provided by Blake and Wagler Funeral Home in Montgomery, Indiana.