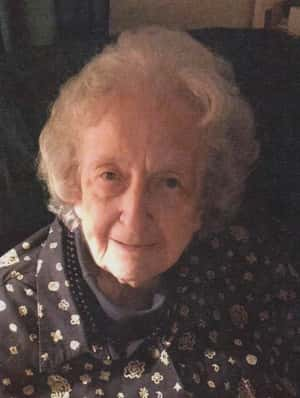 Ella L. Hedge, 90, of Vincennes, passed away October 25, 2017, at Gentle Care Nursing Home.
Ella retired as office manager at Prairie Farms. She was a member of the Church of Jesus Christ of Latter Day Saints.
Born February 21, 1927, in Greene County, Indiana, she was the daughter of Verner and Nella (Burcham) Canady. Her parents; her husband, Walter P. Hedge, whom she married July 5, 1945 and who passed away March 6, 2003; five brothers; and one sister preceded her.
Surviving are her daughters, Joyce Shepard of Vincennes, Rita Brooks and her husband, Dennis, of Mona, UT, Debra Hedge of Vincennes, and Carol Goldman and her husband, Keith, of Vincennes; eleven grandchildren; and 32 great-grandchildren.
The family will receive friends on Monday, from 10:00 – 11:00, at the Church of Jesus Christ of Latter Day Saints. The service will begin at 11:00 at the church. Interment will follow in Memorial Park Cemetery. Goodwin Funeral Home is assisting with the arrangements.
Online condolences may be sent to the family through goodwinfamilyfh.com.