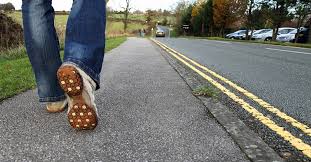 The Daviess County Commissioners and City of Washington have agreed to start a feasibility study to determine the costs of building a walkway and bicycle lane from the Meridian Street Junction with 57 South to Wal-Mart.
          At Tuesday's Commissioners meeting, safety of pedestrians walking to and from Wal-Mart and other businesses was the main topic of discussion.  Mayor Joe Wellman said it's a dangerous situation and Commissioner Michael Taylor said he's had some close calls in the area and said there was definitely a need for a project.
          District INDOT Director Rusty Fowler says the state has plans to improve the Meridian Street Junction with the highway.  He also suggested that the state's Community Pathways Program might be a source of funding.
          Over the past few years there's been an increase in the amount of foot and bicycle traffic that travel the area.