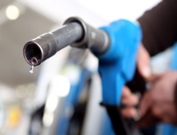 You're paying about $2.29 for gas on average in Indiana, says Gasbuddy.com. Gas is down about a dime since this time last week, in the state. One reason for that is crude oil prices declining, and another reason is that winter blend, which stations are using now, is less expensive.
"Crude oil prices are the king of all influences on gas prices," said Trilby Lundberg, an oil and gas analyst who runs the Lundberg Survey. "If they cooperate, if they don't bounce back to where they were or go even higher, then I think we'll see a few more cents decline."
"Gas prices have today entered their fourth straight week of declining nationally, a trend unlikely to be interrupted by Hurricane Nate over this past weekend," said Patrick DeHaan, senior petroleum analyst for GasBuddy.
"Gasoline supply has continued to improve and as temperatures begin to feel more fall like, demand for fuel will continue to decline. Hurricane Nate, a fast moving storm, did little to disrupt the flow of fuel to market while having a larger impact on oil rigs. However, the nation continues to be awash in crude oil, so the storm mattered little to oil prices."
DeHaan agreed that you'll probably see prices keep going down in Indiana, with the possibility they could do a reset here this week, which is what happens sometimes when prices get too low because of competition.
"Look for relief to continue in most of the country while Great Lakes states may see a move higher in the next few days due only to the repetitive price cycling behavior. Nationally, prices still stand about 15 cents per gallon higher than their pre-Harvey level, but the gap will continue to slow as prices slowly trickle down."
In Ft. Wayne gas is down almost 13 cents from last week and in Indianapolis gas is down almost 12 cents.
Here in Washington we are right with the state average at 2.29…in Petersburg gas is 2.46 to 2.49…2.35 to 2.38 in Vincennes…in Loogootee it's 2.37 to 2.39…in Jasper it's 2.39 in Linton…you can find gas in Linton for 2.18.