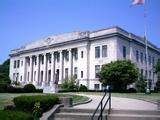 The Daviess County Commissioners have a regular meeting this week and part of their agenda will be to approve changes made to the Daviess County Zoning ordinance. The changes were discussed at a public hearing last week and mainly have to do with measurements of setbacks and right of way.
          At last week's public hearing there was some discussion of enforcement of ordinance requirements.  Commissioner Nathan Gabhart Area Plan Commission will be the enforcers…
          The Commissioners meet at 9-am tomorrow morning in their room at the courthouse.