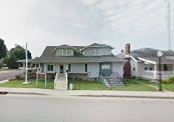 Margaret Theresa Flinn, 89, of Odon, passed away at 5:43 p.m. Saturday at Good Samaritan Hospital. Poindexter/McClure Funeral Home of Odon is in charge of the arrangements.
She was born April 16, 1928, in Loogootee, the daughter of Paris and Margaret (Livers) Cannon.
She had been a cook at Daviess Community Hospital and St. Mary's school. She was a member of St. Mary's Catholic Church.
She is survived by two daughters, Barbara Mensch of Bloomfield, and Marsha Hoene of Odon; two sons, John Flinn of Chambersburg, Pennsylvania, and Jim Flinn of Richmond, Kentucky; 12 grandchildren; 10 great-grandchildren; three sisters, Mary Sue Sterling of Loogootee, Eva Mae Babrick of Washington, Nancy Hayes of Mooresville; and two daughters-in-law, Cherri Flinn and Sue Flinn.
Her husband, Raymond C. Flinn, whom she married June 10, 1944, preceded her in death Feb. 9, 2011. Also deceased are her parents; two sons, Mike and Don Flinn; three brothers, Joe, Bob and John Cannon; and five sisters, Jenny Strange, Doris Reising, Dorothy Taylor, Eleanor Haller and Lucille Marmor.
The funeral will be at 2 p.m. Thursday at Poindexter-McClure Funeral Home, Odon Chapel, with Bro. Richard Smith officiating. Burial will be in Kilgore Cemetery.
Visitation is from 1 p.m. until service time Thursday.