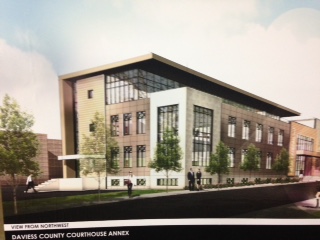 Pictured: A conceptual photo of possible annex at the existing ONB building downtown Washington
Residents in the Odon area will get their chance this evening to see and hear proposals on a possible Daviess County Courthouse Annex.
Last week in Washington, architects presented two possible locations with two options each. Jonathan Lamar of Lamar and Associates Architect and Design said they can build onto an existing building downtown or build a new structure near the courthouse.
Both locations would house the assessor, auditor, recorder and treasurer offices. The new structure would include the health department and there were plans to add the Purdue Extension Office and a County Commissioners Chamber.  There was an option on both on whether or not to include a central dispatch center.  Those who attend tonight's public meeting will learning about construction costs and financing options and more. Public comment will be taken tonight.  No decisions have been made on the issue.  Tonight's meeting is at 6 at the Odon Community Building.