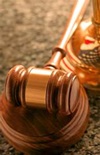 A rural Loogootee man was convicted last week in Martin County after a 3 and a half day trial for several drug crimes including dealing, conspiracy to commit dealing, possession and intent to deliver.
In a weekend news release, Martin County Prosecutor Mike Steiner says 62-year-old Kevin B. Streete was convicted Wednesday and sentencing has been set for April 6th.
The case started when State Police made a controlled buy from Streete using an informant.  Also the Evansville based Drug Enforcement Administration Task Force tapped a phone and learned of a meth delivery which was to take place. After his arrest, Streete confessed to the delivery.  That was in December of 2014.
Steiner added that Streete was arrested January 28, 2015 in a drug bust involving multiple state and county agencies.  During that raid, meth and marijuana were found at Streete's home. He was convicted in federal court for that offense and sentenced to 22 years in federal prison.