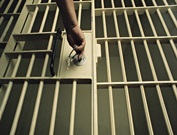 -22-year-old Cortez Arrington jailed last night on a probation violation.
-34-year-old Billy McCoy was jailed at 10:44 Wednesday morning after being arrested by the Knox County Sheriff's Department for criminal trespass.
-18-year-old Kayla Vanhorn also arrested for criminal trespassing yesterday.
-Knox County officers arrested 18-year-old Matias Williams for possession of paraphernalia Wednesday.
-35-year-old Wendy McKendree was jailed for operating a vehicle while never receiving a license.
23-year-old Ashley Paul was charged with resisting law enforcement and booked in at just before noon yesterday.
-23-year-old Dylan Smith arrested Wednesday morning for a probation violation.
-Vincennes Police arrested 43-year-old James Jody Patrick for residential entry Wednesday morning.  He was arrested after a report of trespassing at Park and Minneapolis.  The residential entry charge stemmed from an incident on Jefferson Street.   VUPD assisted city police in the arrest.