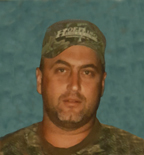 Jeff D. Wilkie, 48, of Odon, Indiana, passed away surrounded by family on Wednesday, August 17, 2016 in Indianapolis, Indiana. 
He was born in Daviess County, Indiana on August 24, 1967 to Davie Joe Acres and Gerri Wilkie.
Jeff was a member of the Odon Christian Church. He was a self-employed certified Utility System Operator.
Surviving are: three sons, Devin Wilkie of Washington, Tristan Lengacher of Jacksonville, FL and Chaz Clayton Lengacher of Odon; his father, Davie Joes Acres; his mother, Gerri Wilkie of Odon; two brothers, Brian E. and Brent M. Lengacher, both of Odon and one sister, Dana R. Cecil of Shoals.
Jeff was preceded in death by: his grandparents, Norma and Norman Wilkie; one son, Jeffery Brian Wittmer and an uncle, Bob Wilkie.
A gathering of family and friends is scheduled for 1:00 PM to 3:00 PM on Saturday, August 20, 2016 at the Second Mt. Olive Baptist Church in Odon. A memorial service will follow at 3:00 PM with Pastor Adam Cissell officiating.
All arrangements have been entrusted to James W. Meng, Jr. and the Meng Family Funeral Home in Odon. Online condolences may be sent to www.mengfuneralhome.com.