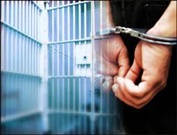 Arrests for drunk driving and battery reported….property damage crash at 50/57
-A Vincennes man was arrested for operating a vehicle while intoxicated by state police in Daviess County on yesterday's date.  54-year-old Mark Hacker was booked into the Daviess County Security Center and then released on bond.
-21-year-old Max J. Underhill of Washington was jailed following a Washington City Police investigation.  He's charged with domestic battery in the presence of a child, neglect of a dependent and strangulation.  Bond was set at $15,000 and bond was posted.
-The Verizon Store on State Road 257 reported objects stolen.  The person who reported the crime was not sure when the thefts occurred.
-Authorities worked a crash at Highway 50 and and State Road 57 at 6:30 last night.  Two vehicles were involved, there were no injuries.