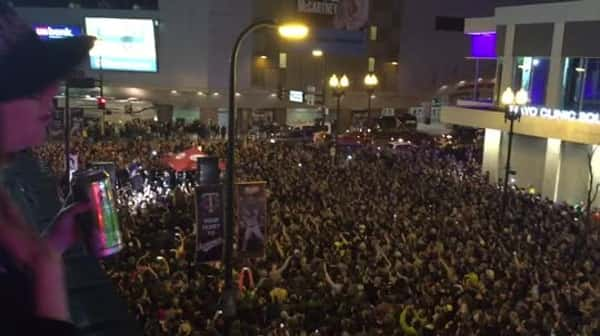 Minneapolis block party for Prince goes all night.
Thousands of people poured into the streets in downtown Minneapolis and stayed through the night to pay tribute toPrince, a musician many considered a once-in-a-generation artist.
Fans hugged, cried, danced, laughed and sang along with local bands playing covers of Prince's music. Many stayed through Friday morning.
The crowd sang Prince's signature "Purple Rain" outside the First Avenue music club. The venue was featured in scenes of the "Purple Rain" movie and Prince has performed there many times.
At Paisley Park in Chanhassen, staff made their way to work early Friday and a few people visited memorials that are set up outside the complex.
The iconic musician was found unresponsive in an elevator at his suburban Minneapolis recording studio complex on Thursday morning.