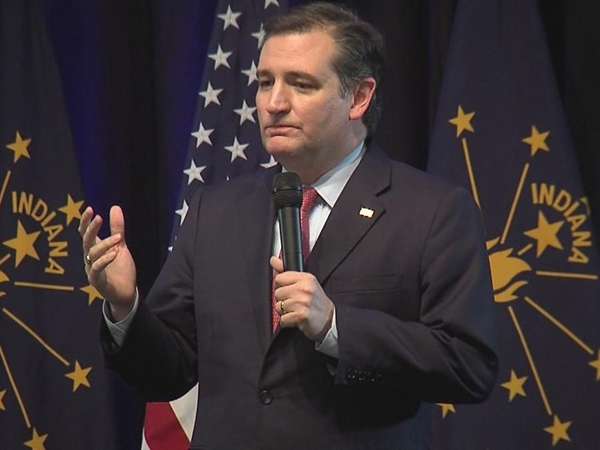 Cruz says all eyes on Indiana ahead of May 3 primary.
Ted Cruz has kicked off what he says will be an intensive campaign in Indiana with a speech at the state Republican Party's annual spring fundraising dinner.
A day after Donald Trump's first Indiana campaign stop, Cruz told about 800 Hoosier Republicans that Indiana's primary will be "pivotal," and promised to return repeatedly over the next 11 days. The Texas senator laced his stump speech with Indiana references, blasting the Obama administration for environmental regulations which threaten Indiana's coal industry, and warning a Democratic victory would mean more of the same.
Cruz showered Governor Mike Pence with praise, calling him an "incredible" governor and saluting him for cutting taxes and expanding school choice. He says a Cruz presidency would follow that blueprint, while lifting federal obstacles to similar policies at the state level.
Like Trump the day before, Cruz met privately with Pence at the governor's mansion before his appearance. Pence's office says he'll meet with the third Republican candidate, Ohio Governor John Kasich, when Kasich makes his first Indiana stop on Tuesday.
Cruz argues both the White House and Supreme Court are at stake, and says Republicans should vote for someone they can count on to appoint conservative justices.