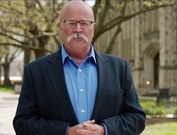 John Gregg has received a major endorsement in his campaign for governor.
Citing his commitment to strong public schools, the Indiana Political Action Committee for Education has endorsed Democrat John Gregg for governor.
IPACE chairwoman Mary Putney says "John believes that every child deserves a quality public education, whether they live in Gary, Zionsville or Vevay".   Putney says educators are ready for a governor who serves as a champion for all kids and respects the professionals who work hard every day to provide our students with the quality public education they deserve.   Putney says, Gregg ran for Governor in 2012 but lost to then Congressman Mike Pence in the closest gubernatorial election in 50 years. The Sandborn and Knox County native announced he was seeking the Democratic Party's nomination for governor again in 2016, citing Governor Pence's emphasis on social issues, such as the Religious Freedom Restoration Act, and his policies on public education and Hoosier workers.
Gregg previously served in the  Indiana House of Representatives from 1986–2002. He served as Majority Leader from 1990–1994.