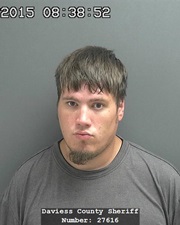 A Washington resident was arrested Friday for possession of synthetic cannabis.  24-year-old Prentice E. Nail was jailed on a $2000 bond at about 8:10 last night.
---
(mugshot not available)
Naison M. Jean 18 of Washington was arrested Friday for minor possession of alcohol and disorderly conduct.  Bond was set at $2000.
---
22-year-old Taylor A. Kavanaugh of Montgomery was arrested for criminal mischief overnight.  The 22 year old was booked into the security center at 12:47am.
---
(mugshot not available)
The Daviess County Sheriff's Department website reports that 32-year-old Lawrence D. Dent of Petersburg was arrested for DUI at about 2:15-am this morning.