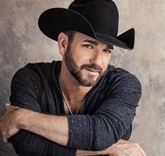 The Montgomery Turkey Trot Festival in Montgomery continues its tradition of bringing top notch professional entertainment.
T0night's offering is country music performer Craig Campbell.  His hits include…"Family Man"…."Fish"….and "Keep Them Kisses Comin'"
The Georgia native says he'll also be performing some new material…
Craig Campbell will be on stage at the Turkey Trot tonight at 8:15.  A paid admission to the Turkey Trot gets you into the concert.
Tomorrow night, country singer John Pardi will be on the main stage.