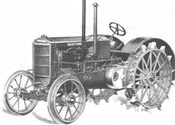 The 31st annual White River Valley Antique Show put on by the White River Valley Antique Association is this weekend at the Daviess County Fairgrounds in Elnora.  Over ten thousand people are expected.  Last year the event drew at least seventeen thousand people.
Lisa Schaffer has been with the festival for many years She says in addition to the hundreds of antique vehicles, tools and more there are several events going on every day of the festival…
This year's featured tractor is the Massey Harrison/Ferguson tractors and gas engines.
For more info on the show go to WRVAA.og