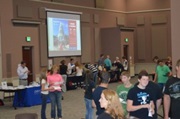 High school students are invited to the Westgate at Crane College Fair on September 29th.
It's the 3rd annual college fair open to public as well as home schooled students.
Last year 800 students and 25 colleges and universities attended.
Organizer Alexandria Jackson says the fair is meant to let students know about the opportunities available to them after high school.
The Westgate at Crane College Fair scholarships will be awarded at the fair and applicants must be present to receive their scholarship funds.
For information about the fair or scholarships contact Sarah Miller at 812-863-2756.
Again the college fair is September 29th at the WestGate Academy from 9 to 11.