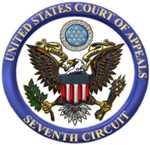 A federal appeals court says the state may not be able to prevent a former prison employee from marrying a prisoner.
While working as a contractor at the Wabash Valley Correctional Facility in Carlisle more than seven years ago, Rebecca Riker began a romantic relationship with inmate Paul Vest, who was serving a 50 year sentence for robbery. After Riker left her job, she continue corresponding with Vest, but her request to marry Vest was denied by the state Department of Correction as a security risk, since Riker had "intimate" knowledge of the inside of the prison.
A U.S. District Judge upheld DOC's decision, but that was reversed in a decision released Friday by the 7th Circuit Court of Appeals, who returned the case to the district court.