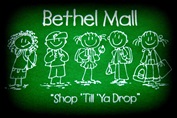 It's the 15th year for the Bethel Mall in Washington.  The annual event is tomorrow.
Kerry Dalton is one of the organizers.  The Bethel Mall is an outreach ministry of the Bethel United Methodist Church in Washington and is a one day event that provides kids (grades pre-school through 12th grade) with their "Back to School" needs.   Dalton says the event will be at the Washington 4H grounds…
Registration begins at 7 and runs to 1 and shopping will be from 9 to 3.
15 years ago the Mall served 25 kids and last year that number reached 960.