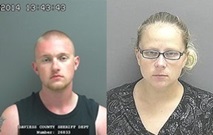 A trial date has been set for November 17th for 28-year-old Candis Freeburn and 19-year-old Mathew Palmer-Coy of Washington.
Both face 20 counts of battery and neglect in connection with numerous injuries discovered on their 5 week old child.
The investigation began July 16th by the local DCS office after they were notified by Daviess Community Hospital they were treating the child.  The baby was later taken to Riley's where numerous other injuries were found and it was determined they were allegedly caused by abuse.
Both pleaded not guilty in initial hearings this week in Daviess Superior Court.