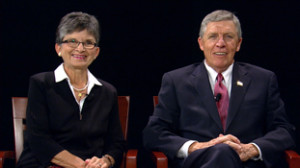 Friends, family, and colleagues gathered yesterday to bid farewell to retiring Vincennes University President Dr. Richard Helton and his Wife Cindy. Approximately 100 people assembled at Vincennes University's Green Activities Center to congratulate Helton on his career and wish him well.
John Decoursey, a retired VU faculty member, was on the committee that selected Dr. Helton as President in 2004. He told us what he believed will be Helton's legacy at VU
For VU employees unable to make yesterday's reception, there will be a faculty "Salute to the Heltons" reception next Tuesday, July 28th. The event will be held at the Green Activities Center and run from 3:30 to 5:30 PM, with a special program beginning at 4 o' clock.