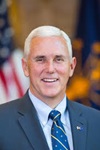 Indiana Gov. Mike Pence is set to formally announce his bid for a second term in the state's top office.
Pence's announcement is coming during a speech Thursday night during a state Republican Party fundraising dinner in Indianapolis.
A Pence campaign spokesman says the governor will tout state government's fiscal health and Indiana's jobs growth since he took office in early 2013.
Democrats believe they have a chance to oust Pence following the national outcry over the state's religious objections law which critics viewed as anti-gay. Pence doesn't yet face any competition for the 2016 Republican nomination, but two wealthy GOP businessmen have talked about launching or supporting challenges to him.
State schools Superintendent Glenda Ritz and former Indiana House Speaker John Gregg are both seeking the Democratic nomination.