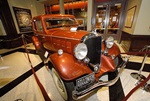 A 1933 car that has been part of the John Dillinger Museum exhibit at the Indiana Welcome Center in Hammond for 19 years is going to be auctioned off.
The Post-Tribune reports (http://trib.in/1DNAtvh ) the South Shore Convention and Visitors Authority is auctioning off a 1933 EssexTerraplane on Saturday in front of the historic Lake County Courthouse. The car didn't belong to Dillinger, but it is the model and year favored by him.
The automobile did appear briefly in the Johnny Depp film "Public Enemy."
When South Shore CVA officials partnered with the Lake Court House Foundation to move the museum from Hammond to the Lake County Courthouse in Crown Point, it was determined the car could not be among the exhibits.