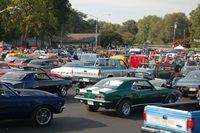 Classic cars and trucks are arriving.  Everybody is gearing up for the 41st annual Cruiz In and Car Fest put on by the 20th Century Chevy Car Club.  A big change this year that vehicle from 2005 and older can now enter and be a part of the fun.  For several years it's been 1995 and older.  That 10 year extension is believed to be increasing participation this year.
        Dave Frey is with the car club says the cruise following pretty much the same route as last year starts at 5:30. After than there is fun to be had at East Side Park…
Some things to remember for the weekend…
No parking on Main Street Saturday starting at 5 for the 20th Century Chevy Cruiz-In.  The cruise starts at 5:30.  Parking will resume on Main right after the vehicles clear the downtown area.
        The planned Cruiz-In cruise route has been changed slightly due to road construction on East 12th Street. The route will not go along Vista Lane and East 12th Street. It will continue south on Wagner Avenue to Brett Cable Road.
        Also there is no public access to the upper lake park area of East Side Park starting at 5 Saturday due to fireworks preparation.  Glenwood Drive will be closed after 7-pm and reopened right after the fireworks.
        Also due to the Cruiz In, there are no Knights of Columbus Treasure Hunt drawings tomorrow night.  Ticket sales were suspended this week.  So no tickets will be solde tomorrow either.  Ticket sales will resume Monday at the K of C.  There will be a drawing next Saturday for the over 2.2 million dollar prize.