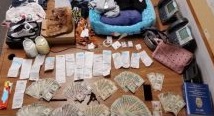 Just before 6p.m. Wednesday (last night)  Indiana State Police stopped a passenger vehicle on Interstate 74 near the 4 mile marker in Vermillion County. The officer clocked the car at 87 miles per hour in a posted 70 mph zone.
Police became suspicious and K-9 Zeke indicated drugs.
Officers found Marijuana, 11 counterfeit $100 bills, $1,425 of real money, a counterfeit detector pen, and numerous items purchased from retail stores.
The driver 23 year old Cherith Hadnott of Indianapolis was found to be driving on a suspended license.  She is facing several charges.
The passenger 22 year old Aniya Harris of Indianapolis charged with Possession of Counterfeit money and Marijuana and theft.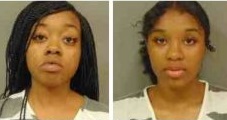 Cherith Hadnott and Aniya Harris