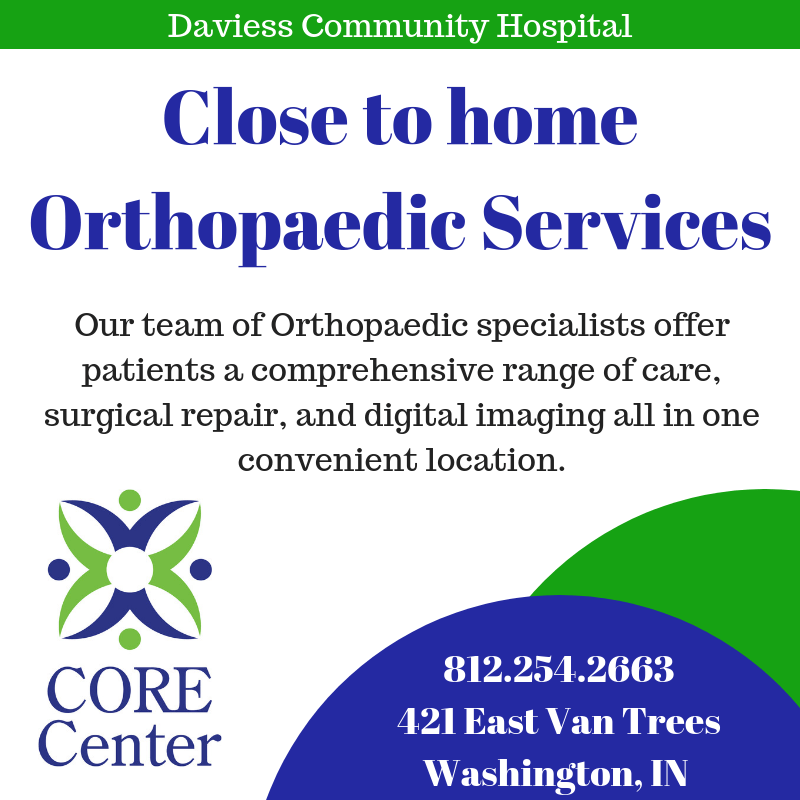 Close to Home Orthopaedic Services
You already know about Platelet Rich Plasma Injections at Daviess Community Hospital; but lets talk about Orthopaedic Services in general!
Their team of Orthopaedic specialists offer patients a comprehensive range of care, surgical repair, and digital imaging all in one convenient location: The CORE Center. The CORE Center is located at 421 East Van Trees and Hwy 57, with covered access and handicapped parking near the entrance.
Quality patient care is the essential component to the team's service. By offering state-of-the-art facilities with highly experienced staff, patients can expect to receive premier orthopaedic care.
Services include: Treatment of ankle sprains, fractures and instability. Treatment of rotator cuff impingement, labral tears, shoulder dislocation and shoulder arthritis. Treatment of hand fractures and dislocations, sprains, strains, and muscle or ligament tears, injuries to tendons, nerves, or vessels, and numbness or weakness in the hand or arm (including carpal tunnel syndrome). Treatment for arthritis, contractures, swelling or inflammation of the joints. Knee ligament and meniscus injuries. Knee and hip replacement. Treatment of tennis elbow, neuritis, and tendonitis. Fractures and sports injuries. Reverse shoulder surgery
Contact the CORE Center more information about our orthopaedic services by calling 812-254-BONE (2663) or clicking here.
Previously Featured On Specialty Services