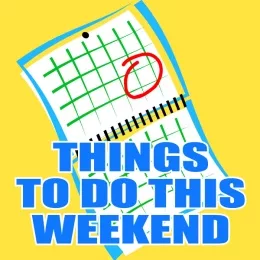 Here's what's happening in our area this weekend:
It's a big night at Hatchet Hollow tonight as Washington will celebrate Homecoming and the dedication of the new Hatchet Hollow Stadium. The festivities begin with the homecoming parade on Main Street at 5 p.m. The line-up starts at 4:15 p.m. at Gate 6 at the high school. The Lady Hatchet Soccer team will host their spaghetti dinner at Washington Upper Elementary starting at 5:30 p.m. Our Hatchet Tailgate Party with Daviess Community Hospital and Jimbos Pizza also begins after the parade at the entrance of Hatchet Hollow at 5:30 p.m. The re-dedication of the new stadium ceremony will begin at 6:45 p.m., and the homecoming queen crowning will start at 7 p.m. Kickoff for the Battle for the White River Trophy from WAMW starts at 7:30 p.m., with live coverage at 7:15 p.m. on Memories 107.9 fm. At halftime, the band will perform along with the dance team, and the winning class float will be named. Tonight is Homecoming at Hatchet Hollow, starting with the parade at 5 p.m.
The Daviess County Fair is getting ready for its highly anticipated fall demolition derby, set to kick off tonight at 7:30 p.m.
$10 for attendees aged 13 and above
$5 for children aged 6 to 12
Free entry for kids aged 5 and under
Pit passes are available for $20. However, participants must be at least 16 years old and present a valid photo ID. The event will showcase three exciting classes.
Full-Size Limited Welding, Full-Size Wire Welding, Mini Cars
The Eric Tyree Magic Show from Tennessee will be in Washington at the Community Building at Eastside Park today between 2 p.m. and 6 p.m. Shows are free and very entertaining! Bring the family and enjoy it, sponsored by DSI Services and the Daviess County United Way.