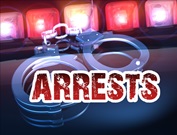 Here is this morning's report from the Daviess County Security Center.
Sunday, Washington Police Officers arrested 52 year old Jeffery Foster of Washington.  Foster was booked into the Security Center on a charge of Invasion of Privacy.  No bond was set.
And these reports from Knox County:
Sunday, Vincennes University Police arrested 19 year old Malachi Hurdle of Indianapolis on charges of resisting law enforcement and criminal trespass.  He was booked into the Knox County Jail
Also on Sunday, Vincennes Police arrested 40 year old Jeremy Lynn Bottoms of Vincennes on charges of Domestic Battery, Strangulation, and Possession of Methamphetamine.
And Vincennes Police arrested 48 year old Dana Hope Cox of Loogootee on a probation violation.