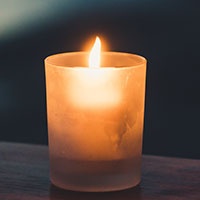 Wilma Laverne Kirsch age 94 of Odon passed away Monday, June 22, 2020 at her residence.
Wilma was born August 20, 1925 in Cannelburg to Lawrence E. and Mary Josephine (Cullivan) Gillick. Wilma attended Washington High School. For several years Wilma worked as a beautician. She also owned and operated the City motel and retired from Armour Processing Plant. Wilma loved to knit, crochet and quilt.
Wilma is survived by three sons Alan (Marlene) Kirsch of Washington, Gary (Madalyn) Kirsch of Florida and Dean (Carolyn) Kirsch of Lusk, Wyoming; one daughter Lisa Kirsch of Odon; six grandchildren Bill Kirsch, John Kirsch, Kim George, Jeff Kirsch, Allyson Tillman and Kelsey Belford and eight great-grandchildren.
She is preceded in death by her husband Joseph William Kirsch who she married May 3, 1947 and died June 22, 1971; her parents and one sister Hazel Collins.
A Graveside Service will be at St. John Cemetery on Saturday, June 27, 2020 at 11:00 am with Yvonne Evans officiating.
Condolences can be sent to the family online at www.edleemortuary.com. All arrangements were entrusted to Ed Lee Mortuary.