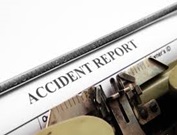 A head on crash in Knox County early Sunday morning resulted in injuries to two Daviess County residents.
John Rink of Washington and his daughter Rose Rink were traveling southbound on 67 near Edwardsport at about 5:43-am when they were hit head on by a northbound vehicle driven by Jacob Kinnaman of Sullivan. Kinnaman crossed the center line near Pieper Road.   The Rinks were reported to be on a hunting trip.
Mr. Rink was trapped in his vehicle after the crash Knox County Law Enforcement reports that Kinnaman's blood alcohol content was 2.3%. The accident is still under investigation.
Rose Rink was treated and released from Good Samaritan Hospital while John Rink and Kinnaman were taken to Good Sam and later flown to Deaconess Hospital in Evansville. Mr. Rink was said to have suffered multiple compound fractures. Kinnaman's injuries are unknown. The Knox County Sheriff's Department says he will be charged with Operating a Vehicle While Intoxicated Causing Serious Bodily Injury.