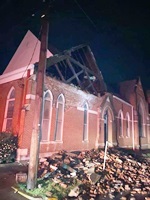 Straight line winds were the official cause of the storm damage on Wednesday night.
        Vincennes was hit hard with damage all over the city including major structural damage at Rivet Schools.  Vincennes University saw trees uprooted and roof damage to some buildings on campus.  Harrison Hall took the biggest hit.   Numerous power outages lasted throughout the night and day yesterday.   The hope is to have everyone back up with power in Knox County by midnight tonight.  Duke Energy's outage map shows 2,000 still without power this morning in Vincennes and Knox County.
         Semis were blown over in Knox and Daviess Counties,  a tree when through a house in Martin County. There was damage to campers and RVs at West Boggs Park as well.
        Clean up is continuing in many areas.   Health officials are urging people to keep their social distance.