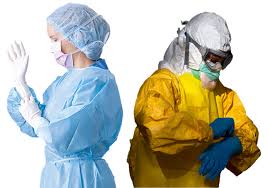 Dr. Kris Box, state health commissioner, on Monday, pleaded with people to donate PPE, if they have them. That includes masks, gloves, and gowns. She said it pains her as a health care professional to say it, but she could not guarantee that if you work in a hospital or health care facility, that you would be able to get replacement PPE.
"What we have received from the strategic national stockpile, conservatively, would cover about 13 days, if the State of Indiana received no further supplies. That means if our hospitals were not receiving their normal supplies, which they are," said Box.
She added that Indiana will continue to purchase PPE wherever and whenever possible, but that until she actually has it in her hand, it doesn't count.
Box showed a slide indicating that Indiana is behind surrounding states like Kentucky, Ohio and Illinois, in the number of people tested, per 100,000. She said she hopes that the addition of testing by more private labs will pull the numbers up to where as many as 6,000 people could be tested per day, in the coming weeks.
"We're also working to increase testing in northern and southern Indiana, specifically for our first responders, health care providers, long-term care workers, as we have been able to do here is central Indiana," she said.
Some people who are unemployed and may not normally be eligible for benefits are now eligible, said state employment commissioner Fred Payne.
"This group includes those who are self-employed, independent contractors, gig economy workers and those who have a limited work history," he said. Payne said his office received some guidance from the federal government on who is covered under the CARES Act, or the relief bill.
"In addition to now being eligible for unemployment benefits, this class of workers will also be eligible for the weekly $600 benefit."