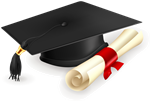 Barr Reeve Schools have tentatively set a graduation date for Friday July 17th.    With schools closed for the year for the pandemic, proms and graduations will have to be cancelled, or rescheduled depending on the school corporation's decisions. 
          Barr-Reeve announced Monday that the July 17th graduation is dependent upon direction received by state and local authorities..
          The Barr-Reeve Junior Senior Prom is set for the next night, Saturday July 18th and then on Sunday July 19th a senior trip to Holiday World is tentatively set.
 See the official student announcement  here.