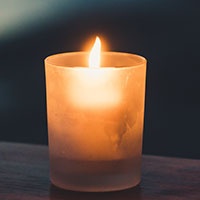 Irene Hurt, 82, of Loogootee, passed away at 3:45 p.m. Wednesday, March 18, 2020 at Memorial Hospital and Healthcare Center.
She was born October 2, 1937 in Loogootee, Indiana to the late Walter and Leoma (Stuckey) Bough.
Irene married James E. Hurt on April 15, 1961 and he preceded her in death.
She was a member of the Loogootee United Methodist Church. In her younger years, Irene enjoyed crocheting and cooking. She loved spending time with her family, friends and children. She and her sister, Lois, made many shopping trips to the "mall" (St. Vincent De Paul) while their health allowed. Irene was a former head cook for over 20 years at Loogootee Elementary West and Loogootee High School.
Irene is preceded in death by her husband, James E. Hurt; son, Fred Hurt; parents, Walter and Leoma Bough; siblings, Don Bough, Gordon Bough, Wendell Bough, Ford Bough, Eloise Throop and Lois Dearwester.
She is survived by her sons, Michael Hurt and Rick Hurt, both of Loogootee; grandson, Dakota Hurt.
Private family services will be held.
In lieu of flowers, memorial contributions can be made to the Loogootee United Methodist Church.
Condolences may be made online at www.blakefuneralhomes.com