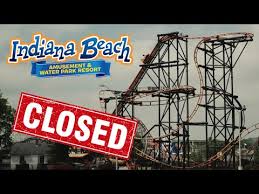 Indiana Beach amusement park has closed after operating for 94 years in White County. The park closed for good Tuesday afternoon, confirmed White County Economic Development Director Randy Mitchell to WLFI TV.
Apex Parks Group, which operates 20 other parks, decided to close the park after it could not find a buyer.
The decision was financial, according to the company's vice president.
The park has been sold at least twice, the last time in 2015. It was opened by the Spackman family in 1926.
The future of all park employees was not clear Tuesday.