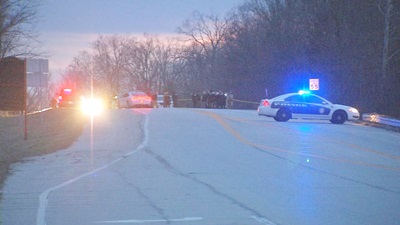 (photo from wdrb.com)
Police say a woman who died during a shootout with police after a chase shot and killed herself.
It was initially reported that Alisha Lewis was killed by police officers when both she and her husband Brandon Lewis opened fire on officers when a police chase ended. Now an autopsy has confirmed Alisha Lewis died from a self-inflicted gun shot wound to the head, said Harrison County Sheriff Nick Smith.
The chase started as officers were pursuing the couple into Indiana from Kentucky in a stolen SUV.
"Our officers, along with the Corydon Police Department, entered the pursuit in assistance of our brothers in Kentucky," Smith said. "The vehicle pursuit was terminated just before the urban are of Harrison County by using stop sticks."
That's when Smith said Brandon Lewis started shooting at police officers who returned fire hitting him. Smith said at some point during the shooting, Lewis shot and killed herself.
Brandon Lewis is being treated at University of Louisville hospital where he is still in critical condition.